August 1, 2006
i'm excited with this popular fall trend of oversized sweaters over skinny jeans or leggings. you see, i am not fit nor i am trying extremely hard to achieve washboard abs or toned arms. my gut sticks out and my arms are flabby and i'm not proud of that. i simply create excuses for not making it to my elliptical machine only a few steps away from this PC. and it's my fault.
so, having said that - i am thrilled to death that i'd be able to hide my flaws and yet be so fashionably-in and chic about it. the fall runways featured chunky sweaters and jackets paired with tights, pencil skirts and the i-thought-won't-last skinny jeans. the finish product - a sleek layered outfit which is very forgiving and friendly to the un-toned body. check out the runway looks :
monique lhuillier
chanel
and the affordable, street versions :
see by chloe capelet and jeans
vince sweater and corduroy jeans
another vince sweater version with leggings
and finally, i looooove this marc by marc jacobs wool coat with cigarette jeans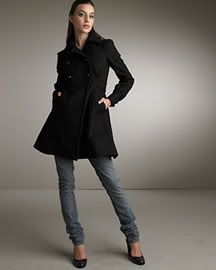 addendum : by the way, yours truly got a cool mention here. thanks, kristopher dukes!
photo credits : style.com, neimans