July 31, 2006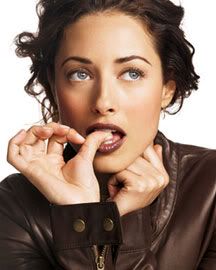 "chocolate is the new beauty classic. warm, rich tones make you look polished without being overdone." - bobbi brown.
i so agree. even if they say that a dark brown lip shade add years to your actual age, leave it to bobbi to create a lip palette duo featuring a brown-toned hue matched with a layering gloss. eye shadow colors are a pretty champagne truffle shimmer as well as chocolate and bone eye shades. finish off the look with a crimson, cranberry blush and your set for fall. the face is dramatic, clean and classic!
ever since i found my favorite malt shade of lip shimmer from bobbi, i have been a loyal fan.
source : neiman marcus